Mercator
Mercator v.3.6
This is the old version of the Mercator annotation tool for the MapMan annotation. All new developments (faster, more precise, more consistent, better ontology, makes you breakfast) are in the new branch.
See navigation tab

about Mercator

for details about the Mercator v.3.6 online plant protein annotation tool
If you find Mercator v.3.6 useful please cite:
Lohse M, Nagel A, Herter T, May P, Schroda M, Zrenner R, Tohge T, Fernie AR, Stitt M, Usadel B
Mercator: a fast and simple web server for genome scale functional annotation of plant sequence data.
Plant Cell Environ. 2014 May; 37(5): 1250-1258
Please evaluate this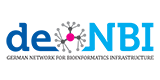 service! Give your feedback